Australian Cam Davis nabs first PGA Tour win at Rocket Mortgage Classic
Cameron Morfit / PGATOUR.COM
DETROIT – Troy Merritt birdies four of his last six holes at the Rocket Mortgage Classic, only to be equaled by Cam Davis, playing up ahead, who goes 3 under for his last two.
It's Davis, in the end, who wins a three-man playoff with Merritt and Joaquin Niemann. One week after it took eight extra holes to decide the Travelers Championship, Davis finally beat Merritt with a par on the fifth extra hole at Detroit Golf Club.
Here are five stories you may have missed from the Rocket Mortgage Classic.
1. Davis was a tee-to-green machine.
The winner gave himself chances for birdie, and the win, on all five of the playoff holes. He didn't make any, but finally wore out Merritt, who finally ran out of magic. It was the shot that got Davis into the playoff, though, a 50-foot blast from the sand that landed for eagle at the par-5 17th hole in regulation, that will stay with him for a long time.
"I mean, it's the only reason I'm sitting here now," Davis said. "To be honest, in my head there wasn't a thought of trying to hole it, I was just trying to pick my spot and just hit another good bunker shot. I've hit a lot of good ones this week and that one just came off pretty nicely.
"Even when that went in," he continued, "I still wasn't sure where I stood in the tournament and I still felt like I had to play aggressive down 18, but that definitely kept me in it, that one."
He made birdie from just under 6 1/2 feet on 18 for 67, tying Merritt and Niemann at 18 under. And as Merritt pointed out, Davis hit the greens in regulation in the playoff. Merritt didn't.
For more on Davis, click here.
2. Merritt wouldn't go away.
It didn't look like Merritt's day when he could only manage an even-par 36 on the front nine.
Not so fast. He heated up when he had to, making four birdies over the last six holes. None was bigger than his 167-yard third shot and conversion from just over 7 1/2 feet at the par-5 17th. With Niemann having already hit a laser-like second shot to just outside 13 1/2 feet for eagle, Merritt had his back against the wall and produced a got-to-have-it birdie.
"You never know when you're going to make a few putts to get yourself back in it," he said. "We were able to do that on the back side today; unfortunately, we came up just one short."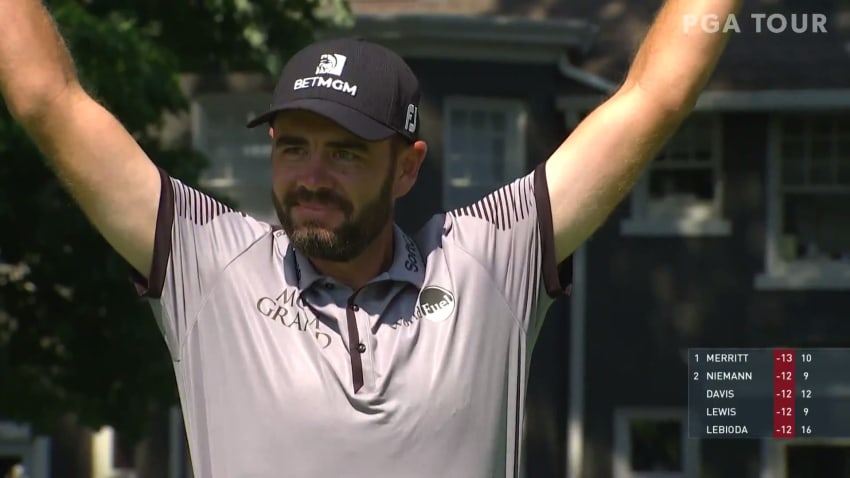 Highlights

Troy Merritt's incredible hole-in-one No. 11 at Rocket Mortgage
3. Niemann hit some epic shots.
How good was Joaquin Niemann? He didn't make a single bogey over 72 holes of regulation play. He hit a spectacular second shot to just outside 13 1/2 feet for eagle on 17 and left himself a very makeable birdie putt from just above the hole on 18.
Alas, he missed both of those putts, then made his first bogey of the week on the first extra hole.
He also failed to birdie the relatively easy par-5 14th hole Sunday, just as he had Saturday.
"I know that I could have closed the tournament pretty early on the par 5, on 14," he said. "Then I couldn't make a putt on 17 and 18. It's just the way it works. Yeah, this is golf and sometimes you'll get your good rewards, sometimes it's not great, but I'm just happy with the way I played."
Sunday marked his third runner-up finish and second playoff loss (Sentry Tournament of Champions) this season.
4. Mickelson played from the fairway.
Making a rare start in Detroit, Phil Mickelson opened with a 3-under 69 but shot three straight 72s after that. In the end, his assessment after the second round nicely summed it up:
"I've been driving the ball well," he said after hitting 12 of 14 fairways. "I'm in the fairway, the short grass, which is weird. Then I just haven't done much from there."
Mickelson, who will be mic'd up as he and Tom Brady take on Bryson DeChambeau and Aaron Rodgers in Capital One's The Match at 5 p.m. ET Tuesday from Big Sky, Montana, hit 43 of 56 fairways for the week for a nearly 77 percent success rate.
It was miles better than his season-long performance coming into the week (52), but he was in negative numbers in Strokes Gained: Putting, averaging 30 putts a day. He was also in negative numbers in SG: Approach-the-Green for three of the four days.
"I'm so far removed, they haven't even teed off yet," Mickelson said of the leaders after his round. "I've got to do a better job so that I can sleep in a little bit later."
5. Canadian Notes.
Mackenzie Hughes – T14
Roger Sloan – T21
Michael Gligic – T41
Nick Taylor – T52
David Hearn – MC
Adam Hadwin – MC