Seguin Valley: stay and play, and eat, and fish, and bond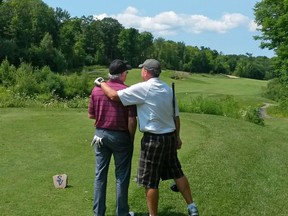 You may never meet a group of golfers happier to stumble through the trees, remove their shoes, and wade into the water before taking their next shots than you will at Seguin Valley Golf Club.
After the round, that is.

"The first time we did the stay-and-play package there, five years ago, I remember us pulling up to the cabin, the guys getting out and seeing the view over the water, and going, 'This is awesome!'" recalls Corey Asadoorian.

The Burlington resident, an engineer at a chrome plating facility, is gushing over Cottage 2, one of Seguin Valley's four rustic stay-and-play settings on the sprawling 800-acre wilderness property just outside Parry Sound. In total, the club can now comfortably accommodate 56 guests with the addition of the Sugar Shack this season, a former maple syrup finishing shack that has been converted to a common room replete with a big-screen satellite TV and screened porch, and accompanied by a dozen two-bedroom bunkies just steps away.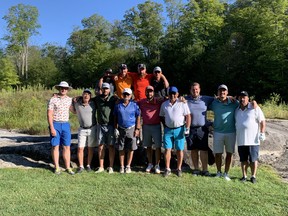 All four of Seguin's cottages feature fully equipped kitchens and are situated on a private lake. So, it's a little like camping, except a lot more comfortable, with an award-winning golf course within walking distance, no families around, and some clubhouse restaurant meals included.
While the extensive overnight accommodations at what is arguably Ontario's most photogenic course is a revelation to many, Asadoorian admits he didn't even know Seguin's golf course existed as recent as six years ago. "My father-in-law purchased a foursome at a live auction at the Toronto Golf & Travel Show. He had no idea where the place was—it just seemed like a great price," Asadoorian recalls.
"We weren't aware of the cabins on our first visit. But once we found out, it was a no-brainer to stay there. Two trips ago, we had a pair of cabins—across the water from each other—and we went to the cottage with the dock and would swim, while some of the other guys fished. We've always got music going and a bonfire at night."
The accommodations are basic, but spotless and efficient, and online booking is simple, Asadoorian says. "For a bunch of guys on a golf trip, you just want someplace nice and clean to crash. It's a perfect set-up, and the value is really good."And the group is growing, he notes. "We've gone from three people to 20. We've booked the Sugar Shack this year. We'd love to do this two or three times a year, but I have a young family, with a three-year old and another on the way. So, I do need this kind of thing once a year!"
WILD TIMES FOR OLD FRIENDS
"Here's a brief history of how our love affair with Seguin Valley began," regales Ken Brown, a client executive at Able One Solutions in Kitchener. "A friend of mine has a cottage in Parry Sound. For many years, a group of 12 guys would spend a few days at his cottage. We'd play two or three rounds before heading up to MacGregor Bay to fish.
"We played every golf course within 50 kilometres of Parry Sound—until Seguin Valley opened. There was only one course we were interested in after that, even before the clubhouse was built. The course is spectacular and there's nothing better than never seeing another golf hole other than the one you're playing. And every hole is memorable. We find ourselves standing behind the green and looking back towards the tee blocks on every hole to really appreciate its beauty.
"I've purchased a minimum of two stay-and-plays every year since they've been offered," Brown says. "One for customers and work colleagues; the other with my Grey Silo golfing buddies from Waterloo. We typically go in June and September. But if the sun is shining, it really doesn't matter when we go."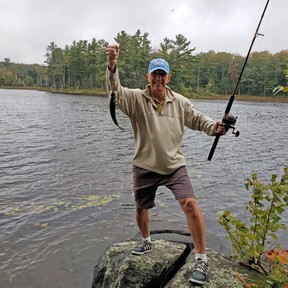 There's no mistaking that you're a long, long way off the beaten path when negotiating the heaving, treelined fairways and lakes at Seguin Valley, Brown observes. "The very first time I played there, a moose with her calf walked directly up the 9th fairway towards us. All these years later, I can still picture them. And I've yet to be there without seeing bears. A few times I've seen the mom with three small cubs. It's breathtaking stuff!"
For Brown's group, the ritual commences with brunch at the clubhouse. "We play 18 holes, then have dinner in the clubhouse around 5 p.m. in order to get back to Cottage 2 in plenty of time to fish. While a couple guys build the fire, the others prepare the lines. We catch countless bass that probably average a pound or two, and about as many perch. Some of them are in the giant category!
"I'm 65 and one of the youngest, but it's honestly like being kids again," Brown enthuses. "When it's too dark to fish, we sit around the campfire and talk about the bears, deer, moose and the incredible course. We've watched the Toronto Raptors win the NBA Championship and the St. Louis Blues hoist the Stanley Cup in Cottage 2!"
As for those accommodations, "it's rustic outside with all the amenities on the inside—four separate bedrooms and two completely renovated washrooms/showers. A kitchen with fridge, stove and microwave," Brown relates. "There's a big table for playing cards and a nice area to watch TV. We thought we hit the lottery when we arrived. And the staff are incredible, from Gail, Dawn and Mike to every person on the grounds crew and restaurant staff. They really complete the entire experience.
"The next morning, we'll have breakfast in the clubhouse and tee it up again. It seriously never gets boring. During the drive home we always start talking about booking the following year."
GIRLS NIGHT OUT
Lori Friesen was getting organized for a ladies' winter golf excursion to Palm Springs, California in three days when she picked up the phone. Now retired, the Guelph resident nonetheless had little issue pivoting to discuss another trip she has planned for the same group of 10 women in six months' time.
"It was one night and two days last year," she says. "This summer we're doubling it to two nights and three days."
Transitioning from a five-star Palm Springs hotel to the humble charm of Seguin Valley's cabins might sound like a bit of a culture shock, but Friesen says you don't require luxury to be in your element there. "There was everything we needed at Seguin—two showers in the small cabin, four bedrooms and a place to sit and relax. It was basic, but it was the perfect spot—looking over the lake and the dock. And the golf course is gorgeous.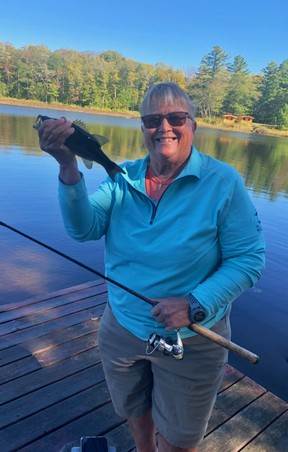 "Four of us brought fishing rods and caught right off the dock," Friesen notes. "It felt like whole spot was just for us. But when I think of what really stood out last year, it was the value. When you look at that golf course, you'd expect to pay easily $100 a round. Then you get your dinner package, your breakfast, accommodations. It was exactly as we'd expected, and then the service went beyond that. They asked if we'd like a bonfire and then supplied all the wood, and we sat out there for hours. You'd think some staff member can be having a bad day, but everyone was so accommodating. 'When would you like to play? How long afterward would you like to eat?' And the food in the clubhouse was quite good."
Buried under the weight of a pandemic, it's been more important than ever to find opportunities to get away with friends, Friesen suggests. "This group of 10 has all been very careful and made a pact to be safe during the pandemic, so there was no problem being under the same roof together."
"Last year was the sort of positive experience where you feel you absolutely have to come back."
FINS & SKINS
Home for Dave Brann is the tiny community of Everett, Ontario, southwest of Barrie. But he suggests there's a notable difference in atmosphere once you travel another hour north.
"You wouldn't believe how accommodating the folks up there are—it's like they're all connected, all friends," says Brann, a Bell Canada retiree who started up his own phone service firm in 2014. "In the Barrie area, you still have the Toronto influence, where it's more about, 'What can you do for me?' Up there, it's 'How can I help you?' I remember my first time at Seguin, and the pro opening my course yardage book and making notes in it: 'Stay away from these rocks! Watch for this!' I couldn't believe he took the time to do that. You don't forget that stuff like that."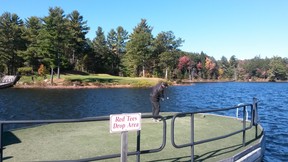 Nor do you forget the topographical splendour of the layout itself, Brann notes. "First-timers are always like, 'Oh my God!'—on every hole. Especially the par-3 7th, where you stand there and wonder. 'How the hell did they build that that thing? And that floating bridge?'
"One year, we had a novice golfer with us who asked, 'How did they manage to get all these incredible rocks onto this course?" Brann laughs. "And we said, 'You realize this sits on the Canadian Shield, right? This is all natural rock!'"
But the routing is also unique, Brann says. "Our group has been to Michigan and Niagara Falls, and when it's busy it feels like you're sandwiched together. That messes with your game. But the thing that really struck me the first time I played Seguin was how, once you start out on the course, you don't see anyone else until you come back in—even on a busy day if you're keeping pace. And I've never seen a course that takes up so much acreage. That's why it feels like you have the whole place to yourself."
Except for God's creatures, anyway. "We were teeing off the 13th hole one year and this huge fat black dog goes across the far end of the fairway," Brann recalls. "We started thinking, 'How would a poor dog get way out here?' And we told one of the staff members, and he said the same thing: 'How would a dog get way out here? There are no homes around.' And then he said, 'Wait a minute, that's not a fat dog—it's a bear."
KEEPING IT CASUAL
As far as the 'stay' in Seguin's stay-and-play package goes, Brann was among the first to experience the cabins. "The first year we did them was around 2016-17, and we've been coming back ever since. I still remember packing up for the first time and heading back to the course for breakfast before the next round and thinking, 'This has to be the best-kept secret around!'
"Then the next year more people starting showing up. We ran into friends of ours three years ago while getting some beers at the turn. I said, 'What are you guys doing up here?!' And they said, 'We're doing this stay-and-play thing.' And we said, 'We are too! Where the hell are you guys staying?' It was pretty crazy—two foursomes from the same town. But the cabins are so far apart that it's easy to miss each other!" And how casual can things get?
"One night we'd had a few pops but it was still light out," Brann shares. "We could walk down to the island par-3 from our cottage, so headed out, in our bare feet, short and T-shirts, with a couple clubs and some balls. And then out came the money—handfuls of loonies to see who could hit the green. But we went four-for-four, so had to go again and threw some more loonies onto the ground. And then again. Finally, someone missed. So then we went to the drop area on the bridge and started dropping loonies down to challenge from there too. And then on to the putting green.
"The next morning we're having breakfast at the clubhouse when we look out and see one of the maintenance guys coming up the 18th on his mower. He gets out and starts talking to another maintenance guy, and then pulls out this fistful of loonies. That's when we realized we may have had too many drinks and forgotten to pick up all the money.
"We've had some amazing times up there," Brann continues. "Our group is now 12. We started with four, then word got around. We always bring our own foldout chairs and some bring fishing rods. You can fish off the shore, but the guys who work up there told us, 'If you go around and fish off the bridge or even one of the docks in the lake, it's almost impossible not to catch fish.' So we're thinking of doing a Fins & Skins tournament this year."But while the golf course shines during the day, you seriously have to see the place at night, Brann says. "You're far enough outside of town that there's no ambient light. When you're having that last round and looking straight up into the stars, you can't help but think, 'This is crazy good.'"
For more information, visit seguinvalley.com. or email info@seguinvalley.com